Newcastle, Virginia, used to be a bustling town with hotels and restaurants and commerce fueled by the mines in Craig County. But the mines closed down and now Craig County is best known for its natural beauty, hunting, camping, hiking, and recently lots of bears. But our trip to Newcastle was to walk the historic Main Street during a festival and enjoy the people and the food of one of the friendliest places in Virginia.
We did not realize that after parking close to the festivities the first thing we would see was a gentleman wearing state-of-the-art Google Glass. Nathan was eager to show us how it worked. We put on the cool specs and with a tap of the finger we could take a photograph or ask a question and see the answer. Nathan was one of the few to have the privilege of beta testing what may one day adorn all our faces.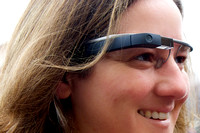 Further down the street we began to smell what is usually our favorite thing about street festivals, food. I wish I could remember who these ladies were (they refused to be photographed) but they had some of the best chicken wings….not battered, but coated in a sweet hot sauce that had to have honey as an ingredient.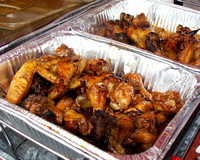 They would not tell us the recipe, drat. Sticky fingers were the result of enjoying a few wings, some big meatballs in a sweet marinara and a sausage dog.
With a bottle of water, all that food only cost us 8$. Having purchased some food at a Virginia Tech basketball game the previous night, the small town prices for delicious food were welcome. A big fat sausage dog for only $2. I paid $4 for a bottle of water at the game! Down the street we enjoyed a pretty good bowl of chili for only $2 and that money went to a charity
The purpose of the festival was a little controversial so WDBJ 7 had a videographer/reporter on hand. Frankie Jupiter, one of our favorite local reporters (and the coolest name) was set up to interview and record the events.
Christi is a celebrity watcher so we had to introduce ourselves and get a photo.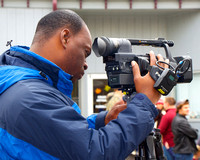 Frankie was kind and full of personality and it was a pleasure to meet him. WDBJ has a star in the making
What was the controversial theme of the festival?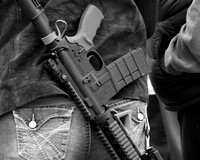 It was the first annual Open Carry Day in Newcastle. Sponsored by area businesses The Emporium (not the one in Blacksburg) and 11 Bravo Training, the day was a celebration of the Second Amendment and the fact in Virginia you can openly carry a firearm. I don't want to to debate the topic, I am a photographer and journalist. This festival is part of the culture of Southwest Virginia and we were too busy trying to get the recipe for those yummy chicken wings to pay much attention to the speakers. The festival really needed a band. Next year get a band.
Good (really good) food, Google Glass, Frankie Jupiter, and heading out we saw this tree covered with coffee mugs. Somebody explain that to us. That night we went to the CD launch party of a great acoustic band, Letters to Abigail, at the Pulaski Theater. It was free and I did not have my camera, bummer. But a great Saturday.