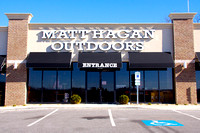 This past Monday, November 25, was opening day for one of the most unique stores in the area. Matt Hagan Outdoors opened its doors on Lee Highway in Fairlawn. It is located in the new retail space on the hill across from Kroger. Hagan, who lives and farms in Childress, was the National Hot Rod Association (NHRA) Mello Yellow Drag Racing Series Funny Car Champion in 2011.
According to the NHRA the store is a collaboration by Don Schumacher Racing and one of its main sponsors, Rocky Boots. Rocky is a world leader in rugged outdoor footwear.
The General Manager of the new store, Al Shelor, recently attended Rocky Brand University and learned about Rocky boots and their other brands Durango, Georgia, and Rocky 4eur (sic) Sole. Shelor will have managerial assistance from Lynn Alderman and Joe Hodge.
"We have several more lines of merchandise coming in next week," said Shelor. Currently the store is 6,000 square feet of clothing, footwear, and outdoor accessories featuring brand names like Browning, Ariat boots and clothing, Cinch western clothes, and Australian rugged wear from Kakadu. The store is well stocked for the holiday season with more on the way.
The western motif is a reflection of the style of apparel preferred by Hagan or any outdoor enthusiast. Hats from Stetson and Kenny Chesney are available and fit in with most any style from casual to dress.
The store concept just began in June and has come together quickly in order to open before Thanksgiving. The speed of opening has left some empty spaces in the spacious store but Shelor said more inventory will be arriving this week, including gourmet food items and more clothing.
Future plans include adding another 1,500 square feet of store space to accommodate firearms and ammunition coming in January. A website will also be launched, soon.
Staff attended several hours of training this past Sunday to prepare for the opening. As the cold weather blankets the area shoppers will have a new homegrown choice for their holiday gifts and winter clothing. Store hours will be 10-8 Monday through Saturday and 11-8 on Sunday.